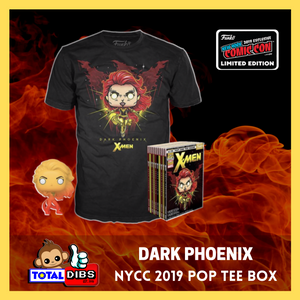 IN STOCK!!!
Full Price: PHP 2,800

NYCC 2019 Exclusive (Official Convention Stickered)
Pop! Marvel X-Men: Dark Phoenix Pop Tee Box

NOTE: Box condition cannot be guaranteed to be MINT (10/10) but we always try our very best to handle your DIBS with love and good vibes! Minor box and paint defects are not subject for refund or replacement.
Pop Tee Boxes come SEALED unless otherwise stated.
We offer FREE TOTAL DIBS METRO MANILA DELIVERY by schedule.
#WeGotYourDibs
#ShareTheLove
#SpreadTheGoodVibes
#TheTotalDibsWay

Like and Follow Us:
Facebook: fb.com/totaldibs
Instagram: @totaldibs